Housing legislation should never be one-size-fits-all in this country, and it behooves our leaders to get and keep a grip on that.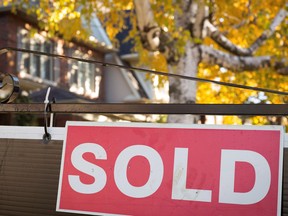 Article content
Postmedia reported last Thursday that Toronto home sales plummeted 41 per cent in June over May, as the average price of a home fell three per cent to 1.14 million.
Article content
I still find that kind of number hard to absorb, so allow me to repeat it, if only for my own brain's certainty: 1.14 million.
Home sales in Canada's largest market dropped five per cent from May to 6,500, and all of this plunging and plummeting was attributed to the Bank of Canada's course of increasing the benchmark interest rate.
The rate has risen to 1.5 per cent from 0.25 in March, and market watchers think it will be jacked to 2.25 per cent on Wednesday. Of course, this is not what people are paying; Mortgages are much higher than the benchmark.
"Much" might be overstating things a bit. On July 8, the best five-year fixed rate in Canada was 4.34 per cent. That, of course, is about to change; but these rates are far from insane.
Forgive me for rolling my eyes just a bit. For those who do not recall, mortgage rates were 18 per cent the last time inflation went really nuts; And while some might say, "Yeah, but that was a long time ago and houses were cheaper," which is partly true, we must remember that all things rise over time, including wages.
It was not easy to cover mortgages then, either.
I know I am crawling toward my point, but bear with me for another moment.
I couldn't resist visiting the Toronto Real Estate Board's listings, because if an average house is $ 1.14 million… what does that actually look like?
I first went down the rabbit hole to find the least expensive detached or semi-detached "average" house with three bedrooms and one or two baths (because we need apples to apples, and I can't deal with an entire market in one go.)
Article content
This listing did not reveal the square footage, but the kitchen measures 13 square feet, and the two smaller bedrooms are nine and 6.5 square feet. My husband could just barely lie down in that third bedroom, and no kidding.
This home is TINY and listed for 699,000. With 20 per cent down, the buyer would pay $ 2,652 per month at three per cent (still possible with a variable rate mortgage) for 25 years.
Oh wait. Look! Now that I've peeked at this little Toronto home, I have not one, not two, but three emails from the agent. I had to log into the site, you see. Sigh.
Anyway, I also found a rather nice home for a near-average 1.18 million. Its mortgage would be 4,507 per month. I don't know about you, but… wow.
I finally arrive at the local point, which is that this plummeting behavior is not happening here… at least not yet.
June statistics from the Saskatchewan Realtors® Association show that sales did drop from last year's COVID-fueled record numbers, by about 12 per cent. Even so, with 2,584 so far this year, we are "amongst the highest levels recorded for the city," the report said.
Listings are trending upward, but the sales-to-listing ratio for single-family homes remained at almost historic lows, at about two months. We may still not have enough variety in the inventory to suit buyers, which is driving up prices.
Indeed, Saskatoon's benchmark price of 380,200 set another record in June.
But let's look at that price. Using the same parameters as with the Toronto properties, this "average" home would cost you 1,439 per month. Bit of a difference there. And yes, you can still find three-bedroom bungalows under 400K in this city, and in nice areas like Avalon or Brevoort Park.
Article content
Rising rates are certainly deflating Canada's housing market, but I expect soaring inflation itself is also taking a bite out of it. How can you afford higher mortgage payments when your food and gas bills are tripling or quadrupling? Which is exactly why interest rates are rising. What a cycle.
Still, paying three to five per cent on a $ 400K house is not the same thing as on a million-dollar house. That is largely why Toronto is plunging well before Saskatoon.
And that is also why housing legislation should never be one-size-fits-all in this country, and it behooves our leaders to get and keep a grip on that.
The phone is ringing. Hold on a moment.
It's that Toronto agent's office, wanting to know if I require more information on this weekend I was looking at. I politely said we are not moving to Toronto because we can't afford it. Plus research, you know.
Tells you something, does it not, about their desire to move this little place in a falling market?
And about being careful where and how you log in online.
Joanne Paulson is a Saskatoon author and freelance journalist who has been covering real estate, off and on, for more than 25 years. Do you have a fascinating real estate story to share? Get in touch at jcpwriter@sasktel.net.
The news seems to be flying at us faster all the time. From COVID-19 updates to politics and crime and everything in between, it can be hard to keep up. With that in mind, the Saskatoon StarPhoenix has created an Afternoon Headlines newsletter that can be delivered daily to your inbox to help make sure you are up to date with the most vital news of the day. Click here to subscribe.