Article content
Brian White and his family went to Kamloops, BC, last summer and stood at the site where the bodies of 215 children who attended a residential school there were discovered in unmarked graves.
Article content
"It was one of the most profound experiences I could ever have," the Sarnia city councilor recalled.
That's why an orange crosswalk, commemorating Indigenous children taken from their families and forced into the former government-run schools, that was unveiled June 20 in front of a popular Sarnia park is so important, White said.
"Because not everybody has the opportunity to experience something so profound in their own life," he said. "My hope is that every time somebody walks across this crosswalk or passes by it in their car that they can spend even just a moment thinking about the kids that were lost in such a tragic way."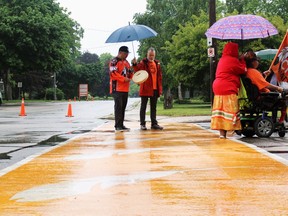 The newly installed crosswalk, spanning Cathcart Boulevard opposite the entrance to Canatara Park, features an orange background with seven feathers. Candace Young, chairperson of the city's United Nations Declaration on the Rights of Indigenous Peoples committee, said they symbolize the Seven Grandfather Teachings.
"Guiding principles of how we treat other living beings," she explained. "It's a good guiding principle as well for reconciliation."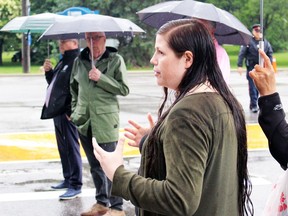 Sarnia city council passed a motion by Coun. Bill Dennis in September calling for the symbol of remembrance, similar to others installed in communities in the months since what are believed to be hundreds of unmarked graves of Indigenous children were found at former residential school sites across Canada.
"This was an honorable thing that the City of Sarnia has done," said M'skwa Giizhig of the Sarnia-area First Nation of Aamjiwnaang.
Article content
Officials from the city and Lambton County – the latter contributed $ 5,000 from its Creative County fund – huddled around Giizhig as he sat in his wheelchair on the crosswalk and spoke about the former schools and the impact they've had on his people.
"I don't even call them schools. They were like jails, institutions, "he said.
Most officials clutched umbrellas as the dedication ceremony was held amid a fairly heavy rainfall, but Giizhig pointed out rain is cleansing.
"And that's what it's doing today. It's helping to cleanse and heal what our people have gone through, "he said.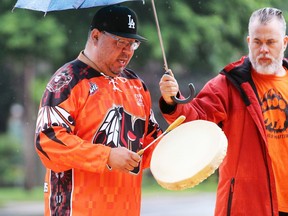 Nim Plain, also from Aamjiwnaang, performed a song as the brief ceremony wrapped up. He's had a busy week with performances every day, including at Saturday's Aamjiwnaang Powwow.
Young pointed out it was important to have it installed in time for National Indigenous Peoples Day, held the next day.
"We're very excited that we were able to do this today," she said. "It was very important to have this complete and dedicated."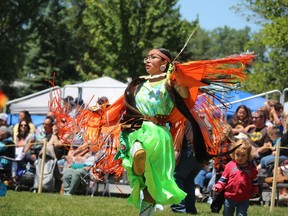 A second crosswalk is planned for the downtown intersection of Lochiel and Front streets, parallel to where a rainbow crosswalk promoting inclusion exists, but staff are waiting for construction in the area to wrap up before it can be installed.
"I do not have a definite timeframe on that, but hopefully soon," Young said.
They are both expected to cost around $ 10,000 each, with grants helping to offset the cost. High traffic and visibility were the reasons the two locations were chosen.
Along with a reason to reflect on the tragic history of the schools, the art is aimed at helping people learn more about the traditions and culture of Indigenous people, Young said.
-with files from Tyler Kula