Featuring "broken suspension, no parking brake, no trailer brakes, no signal or brake lights, damaged tires, exhaust falling off…"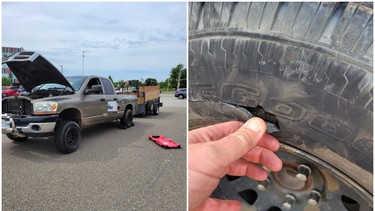 Article content
Commercial vehicle inspectors in Ontario spotted a monster offender on the public roads this week.
Article content
We apologize, but this video has failed to load.
Halton police stop absurdly rusted and dangerous commercial vehicle
Back to video
The Ram 1500 pickup pulling a trailer was pulled from roads in the Oakville area and had its plates removed after commercial vehicle authorities noted a huge list of unsafe and unlawful issues. Police found so many issues, in fact, that they needed three Tweets with accompanying photos and a video just to fit it all in.
Article content
The initial post contains a quartet of images of the rust-bucket truck and its slew problems, naming "A few of the issues" as "broken suspension, no parking brake, no trailer brakes, no signal or brake lights, damaged tires, exhaust falling off, trailer frame damaged, [and] truck frame corroded. " But that's not all.
Article content
A reply to the Tweet by the original poster Halton Police Commercial Motor Vehicle Safety Unit also shows severely corroded flooring where the pad to the flooring mat is visible, a hole in the trailer's wooden bottom over which a number of stones are piled, and a section of the truck's exhaust and muffler that probably should be attached but instead connects to nowhere.
The attending officer also rolled camera to capture the separated suspension bracket on the truck's underside, the non-stop corrosion, and two busted sway bar links up front, which the officer calls "tie rods." And he still wasn't able to capture all the frame, shock, and tire defects!
More On This Topic
BC RCMP stop dilapidated 'Road Warrior' truck on way to pick kid up from school

Unsecured load flies off truck onto highway – again
Article content
It might not affront the naked eye as directly as This doorless, beltless, and seatless pickup used by a BC driver to deliver kids to schoolbut it's still not a good look to be running around in a certified jalopy with your business advertised on the side of it.
Now there's one less on the roads of Oakville, anyway. Good riddance to rusty rubbish.