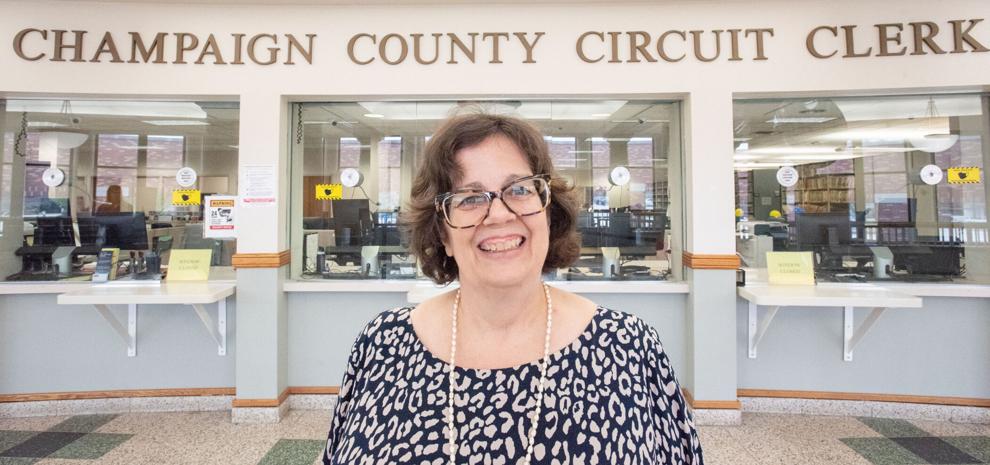 She earned two college degrees in the community she's called home ever since – a bachelor's in political science and a JD in law. But SUSAN MvGRATH's most valuable education came long before she transferred here from the University of Georgia 46 years ago.
Doing the teaching: her late father, John Topping.
"From grade school until his death in 2002, my dad instilled in me how important it was to give my best to any job I had, to treat customers in the same way I would want to be treated, to be reliable, to be a good teammate, to work hard and to keep learning, "McGrath says.
"He was a salesman for his entire career, and respected and liked by his employers, and his customers. With all of that hard work, he did find time to grill a good steak when he got home from his business trips, to take his three daughters clothes shopping, to teach us about history and government, and to just have fun together. "
He'd be proud of his daughter, who in November 2020 was elected Champaign County's circuit clerk after a career that included 16 years as a county board member and 15-plus in the state's attorney's office.
The Hank Aaron fan from Decatur, Ga., Took time to answer questions from Editor Jeff D'Alessio in the 127th installment of our weekly speed read spotlighting leaders of organizations big and small.
---
I can't live without my … cats. Yes, I am the crazy cat lady, even though I have only two at present. I support the work of CATSNAP, the Champaign County Humane Society and Hospice Hearts, so they can help kitties in need.
My philosophy on meetings is … don't have a meeting just to have one. The meeting needs to have a specific agenda, which can be adequately discussed in one hour and generally involves no more than six people.
There are occasions where the meeting agenda has to be more complex and then may take more time, but in general that is what I prefer.
Three adjectives I hope my staff would use to describe me are … dedicated, caring and passionate.
If I could trade places for a week with any other business person in town, I wouldn't mind switching with … my friend and colleague Laura Clower, the president's chief of staff at the University of Illinois. That would be my responsible answer because I think I would learn so much about the University of Illinois and its operations that way.
My fun answer would be Shahid Khan just in the operation of the Jacksonville Jaguars, because I love football.
The hardest thing about being a leader is … making sure that I give people the opportunity to take on a task that they are assigned without hovering over them but balancing that with being available if that person needs help.
When it comes to my single favorite moment in this job … I have had several great moments while having the opportunity to serve patrons directly.
One particular favorite was helping someone who had come in from Rantoul specifically to get help with an order of protection, and needed someone to explain the steps and get her to the right people to assist her with the paperwork.
She was so appreciative to have someone who would listen to her story and let her know that there were people who would really help her.
On my office walls, you'll find … my Henry Aaron plaques, which are two of my prized possessions. I grew up in Atlanta, and was there when the Braves came there from Milwaukee in 1966. I would describe myself as a devoted Atlanta Braves fan.
Also:
– A picture of the Bean in Chicago. That is one of my favorite locations to visit in Chicago, along with the rest of the very beautiful Millennium Park.
– My law school diploma and my certificate from the Illinois Supreme Court. I was the first person in my family to go to college, and so obtaining these additional degrees and certifications were even more special.
– My campaign brochure, front and back, and the article by Mary Schenk about my election, framed and presented to me by Barb Wysocki.
– Two photos from Laurie Solomon from when I first opened my law office, one from the Champaign County Courthouse and one from some beautiful local daisies.
– A beautiful nature painting I purchased at the Cinema Gallery.
My business role model … might be surprised by this, but one is Ford County Circuit Clerk Kami Johnson Anderson. Kami and I were young attorneys together, and we worked together on some interesting cases. She then became the Ford County circuit clerk in 1993.
Kami had a great reputation with courthouse users, and was a hands-on elected official. She had to leave the position in 2008 in order to go back to the family insurance business shortly after her then-husband died, which she did to preserve the business for her children. She then decided to run again for that office in 2019, and returned to service on December 1, 2020.
I admired her for using her training and education to provide this service to Ford County, and the dedication and passion she brought to the position. I admired her even more when she gave up the job she really loved to support her family, and then after some years decided to come back to serve as circuit clerk.
Kami has been a great mentor to me in this new position. She has high expectations of herself, and strives daily to make her office the best it can be.
I'm frugal in that … I don't like to pay full price for anything – though that is just about impossible to do when it comes to getting my hair cut. I like a good bargain, and I enjoy negotiating.
My one unbreakable rule of the workplace is … remember that each person we assist is someone who is not having the best day of their life at the courthouse, and that how we interact with them will shape what their experience will be in all stages of their case.
The last luxury in which I indulged was … taking the second cruise of my life. This was in January 2019, and I went on a trip with friends where we drove to New Orleans, spent the day and a night there, and then boarded the cruise to Mexico the next day. We returned to New Orleans four days later.
It was the first time I had been back to New Orleans since Hurricane Katrina devastated that beautiful city in 2005, and I truly enjoyed the opportunity to visit there, seeing both some of my favorite sites and going to a couple of new places.
The cruise was also very special. The company upgraded us to a room with a balcony for a very small fee, and that really made the trip memorable. Seeing the beautiful architecture and historical sites, and sampling local cuisine in our two ports of call, was something I won't forget.
The most beneficial college class I took was … my ethics class with Professor Ronald Rotunda at the University of Illinois College of Law. Professor Rotunda was an expert in the field, and he was also very practical about helping us apply what we were learning to real-life experiences.
In addition to learning a lot from him, he was also very helpful to me when a legal question was raised as to whether I could serve as a county board member while still in law school.
Professor Rotunda gave very generously of his time to work through the ethics of the situation, which were to me as important as the legal question itself.
As far as my exercise routine goes… in the six months of weather where I can walk outside, I try very hard to walk at least three times per week, one hour per time. Sometimes, I can do that four times a week. I have walking partners that I can impose on to come with me. The route varies, but the walking itself is fun, no matter where we go.
During the six months of weather where I can generally not walk outside, then walking at Lincoln Square is the alternative. I must admit I don't always make three times a week during those months.
I enjoy the sites of Champaign-Urbana during these walks – for example, the Second Street basin, the old historical homes in the Washington Street neighborhood and in the Carle Park neighborhood, and the beautiful city parks.
The worst job I ever had was … also one of my best jobs – working at a nursing home when I was in high school. I worked in the front office as a receptionist and general office worker.
It was a great job because I learned so much about the residents and their families, and the issues facing older people who in those years didn't have a lot of options that are available to older people today.
It was a tough job because for the first time in my life, I got to know people who then died, sometimes pretty quickly after I met them.
On a 1-to-10 scale, the impact of the pandemic has been a … 9, a definite life-changing event. It affected my ability to meet or visit friends and family, and electronic or phone communication is not at all the same. There were definitely times I felt isolated.
Local businesses and their workers suffered tremendously trying to keep their doors open and trying to create ways in which their customers could do more online or by pickup / delivery.
It also affected the election process dramatically in that we candidates could not connect with the voters personally in the months after the March 2020 primary leading up to the 2020 general election.
On the other hand, some good came from this, too. I observed people spending more time assisting neighbors who couldn't get out to get groceries or prescriptions, and reaching out to other people who were feeling that sense of isolation. People worked harder to help each other and to lift each other's spirits.
.