NEW ENTERPRISE, Pa. – At 19, Allie Snider of New Enterprise says that owning a business as well as farming is both rewarding and a lot of hard work.
"I grew up helping my Aunt Bernita with the Snider Guernsey Farm," said this energetic young woman. "When I was younger, I helped with milking all the time."
Snider has 10 Guernseys in her own name that she shows at the Bedford County Fair. One of her cows won grand champion Guernsey cow at the All-American Dairy Show in September.
The award-winning Snider farm is well-known in Guernsey circuits. Snider feels that "there is no one who knows more about farming" than her Aunt Bernita and cousin, Aaron Gable. "I learned so much from them," she said. "But mostly, I learned how to work and, if you want success, you have to work for it."
Snider graduated from Northern Bedford County High School in 2020.
"That was a terrible year for most kids to be a senior," she said, because it was just a few months before graduation that the COVID-19 pandemic lockdown occurred. "But for me, it was kind of lucky. As soon as I was old enough, I (had gotten) a job at the Subway in Martinsburg. When 2020 happened, I couldn't go to school, and the Subway at the Walmart in East Freedom needed help. I soon realized I could do both. I could study at home and work pretty much full time. "
When a manager at the Bedford Subway had to suddenly leave, Snider was called to take over at the national fast-food sandwich shop. She soon learned the Subway business was for sale.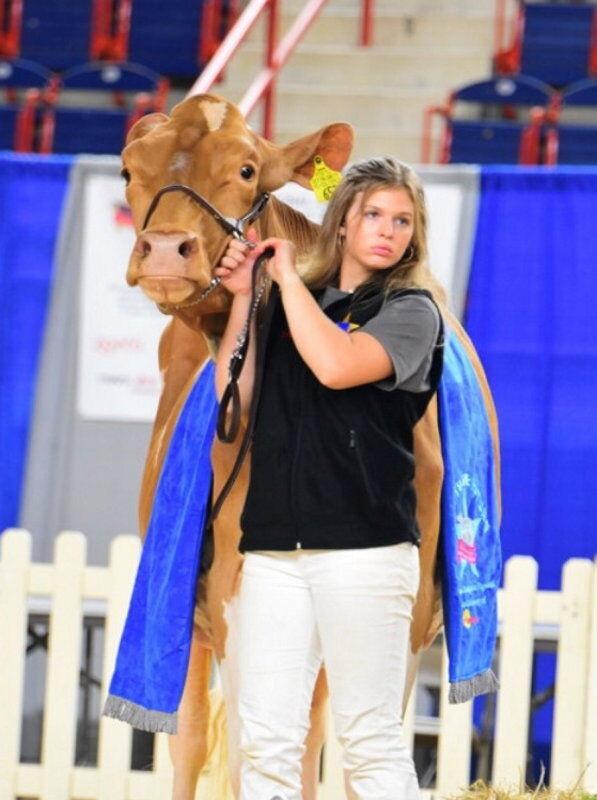 In addition to her farm chores and Subway job, she had been taking college courses.
"Credits are expensive," she said. "I had two years in, but the money from working was tempting. What was even more tempting was learning the business was for sale. "
Located in a small complex next to a Rural Electric company, a computer store and a construction company, the Subway location had a built-in customer trade.
"I knew it was going to mean long hours, but I was used to that," Snider said.
Her biggest obstacle was finding the money. "I'm not old enough to have credit," she said. "I had the business records to show that there was good cash flow. The business was viable, but none of the banks would even talk to me. "
A former Subway owner heard of her endeavor and stepped forward to put up the funding. "I'm paying her back," Snider said, "and she knows I won't let her down."
Snider feels she has been very fortunate to find good help. She has two young women she can always count on to take over at Subway when she isn't there. The Bedford Subway has a total of 11 employees.
"The hours are long," Snider said, "but so are farming hours. I was used to that. "
The Bedford Subway is open daily from 8 am to 9 pm Sometimes, Snider is there the entire time.
When she does take time off, it is to show her cattle for the Snider Farm.
"I love doing that and to win the Open Guernsey Show at the All American was a big thrill," Snider said.
Like many young women, Snider has a boyfriend, a farmer from Williamsburg. She admits their dating is a bit unusual.
"Sometimes we see each other when he stops by the shop to fix a door or do some other repair for me. Or, recently, he had to plant a field and I had some time, so I rode along and took my laptop. While he was planting, I did paperwork on my laptop. "
She said he understands that running a business takes a lot of hours, because running a farm is also running a business.
So far, the Subway business has been brisk. But Snider has experienced some of the present supply chain problems.
"For a while I couldn't get salad bowls, but that straightened out and then it was certain kinds of chips or cookies. I have been warned that proteins could also slow down. "
Like farming, everything doesn't always run smoothly. Mondays are her busiest days because most of the other restaurants around Bedford are closed, so Subway is swamped. Snider also gives credit to the local news media, who found her business venture to be of human interest.
Snider's parents are Brandon and Colleen Snider. Brandon grew up milking cows and helping on the Snider farm and is now an employee of New Enterprise Stone & Lime. Her mother works for Acquired Documents in Bedford.
Snider has three younger brothers, who both milk and show cows.
Snider's only wish as a new business owner is to find a few more hours in each day.
.